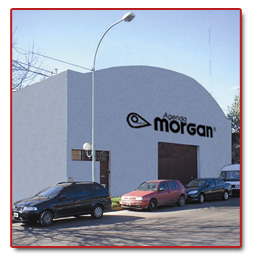 Morgan S.A . is a corporation organizes under Argentina 's Law.
It i s the manufacturer of the more prestigious line of agendas of the country, and brag about the leader mark.
Its products are characterized for be absolutely renewing and, at the same time, for the permanent improvement in the quality of its presentations.
It has lines of products which belong to the Agenda's market and to others similar and complementary, having notable quality and office in all which is related with leather accessories.
Through its 33 years of trajectory, Morgan has achieved a grateful and accredited mark (supported by its high quality's products). It industrial plant, its commercial and administrative offices are located in Parque Avellaneda, Buenos Aires . The Product Engineering emphasize in the design and in the incorporation of new items for the best management of the information, such as idioms, time zones and holidays of the different countries.
During years, the management of the company put emphasis, successfully, in the combination of improvement quality and diversity of products, which guaranteed the permanence in the leadership.
Short History
In 1972 the company began its activities. Its aim: cover the necessity present in Argentina – the development of agendas of high quality.
For that moment, this demand was partially attended by irregular imports of Holland 's products.
It first agenda was called "Morgan Bolsillo", in which germ was implicit the quality of all the following models.
I n 1986 Morgan S.A. inaugurated its industrial plant in Parque Patricios. There has unified the production, administration, commercialization and distribution.
I n 1987 did its first export to USA . It's ample the quantity of export products on behalf of Success Firm.
I n 1990 began to operate in Mexico , being commercialized by the firm "Morgan Mexico", Puntualmex SA de C.V.
In 2003 Morgan S.A. inaugurated its industrial plant inn Parque Avellaneda, Capital Federal. Morgan S.A ., developed a strong and constant growth, which is reflected not only in sales, either in something more important, the recognition of the market.
This was reached thanks to a serious commercial- proposed, join with a quality support of its products and an efficient service of the company to its distribution chain.
The compromise with the quality, that the company maintain inalterable since its born, is the base of the commercial development, which increased the recognition of its mark at the level of a generic one.
Through these 33 years , Morgan chose a coherent sequence of little steps, which generated news abilities and was opening more opportunities.
Opportunities which make stronger through an excellent relation between "Price and Quality".
Communicate through our e-mail: morgan@agendasmorgan.com.ar
Our Internet page: www.agendasmorgan.com.ar